Hearts of Maine is pleased to offer The Hearts of Maine Book Service! In association with Amazon.com we are excited to bring you our choices of Maine related books at low, low prices.
* Please note that by ordering books through our site, the cost of the book does not change — you pay the same low Amazon price. We simply earn a small referral fee by offering links from our site.
Click on any of the selected links shown below to go the Amazon site, where you may purchase the book or any other title of interest. Alternatively, check out the bottom of the page for an Amazon search box to locate the book of your choice.
---

Down East Maine : A World Apart by Frank Van Riper

A Field Guide to Whales, Porpoises, and Seals from Cape Cod to Newfoundland by Steven K. Katona, et al

The Rockbound Coast : Travels in Maine by Christopher Little

One Morning in Maine by Robert McCloskey

Moon Handbooks : Maine (1st Ed.) by Kathleen M. Brandes

Maine : Atlas and Gazetteer (DeLorme)
Maine's Most Scenic Roads : 25 Routes Off the Beaten Path by John Gibson

Longstreet Highroad Guide to Maine Coast (Longstreet Highroad Coastal Series) by Elizabeth Edwardsen

Maine Lighthouses : A Pictorial Guide by Courtney Thompson

Islands in Time : A Natural and Cultural History of the Islands of the Gulf of Maine by Philip W. Conkling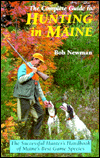 The Complete Guide to Hunting in Maine : The Successful Hunter's Handbook of Maine's Best Game Species by Bob Newman

Complete Guide to Fly Fishing Maine by Bob Newman

Fishing Maine (FalconGuide) by Tom Seymour

Maine : An Explorer's Guide by Christina Tree, et al

Cooking Down East : Favorite Maine Recipes by Marjorie Standish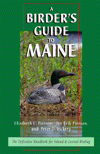 A Birder's Guide to Maine by Elizabeth C. Pierson, et al